| | | |
| --- | --- | --- |
| Start increasing your conversions and click-thrus TODAY by putting the Power of Popups to work on your website. | | |
If you've been around internet marketing for any time, you're probably already familiar with popups and WordPress popup plugins.
For some time now, marketers and bloggers have been praising these nifty utilities and crediting them with increasing their email opt-ins 100%, 200%, 400%, and more!
That's because popups use motion and placement to grab a reader's attention and focus it on your opt-in offer. Readers have to take action and, if your offer is appealing, will take the challenge and opt-in to your site.
It's an awesomely powerful tool. So, answer me this...

You've got this fantastic sales tool that's already proven to work like a dream. Where marketers have used it for email opt-ins, they've been rewarded with spectacular results. Popups have proven that they have a unique and awesome power to get your website readers and visitors to stop and take action.
But, while building an email list is important to online marketing success, there are a myriad of other offers that could use the same popup focus. What if you could get the same attention, focus, and call to action for your:
new product sales letters
membership subscriptions
affiliate links
special and limited-time offers
banner ads
or any of the dozens of other money-making offers you've got in your marketing arsenal?
Why don't WordPress users use popups to increase click-thrus and conversions for these offers?
Simple answer... because they haven't had a plugin that harnessed the power of popups to grab your reader's attention and LASER focus it on your irresistible offer.
Until now...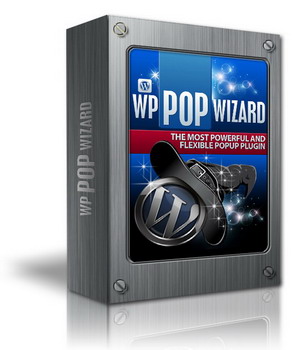 wpPOPWizard is the Most Powerful and Flexible WordPress Popup plugin you can buy.
Just so you understand, wpPOPWizard is Powerful and Flexible. It's not the simplest popup plugin because with simplicity comes reduced function (less power) and fewer choices (less flexibility).
The power of wpPOPWizard is that it lets you take virtually any HTML as your popup content. That includes:
text formatting
css
images
video
flash